SchnapperPlus is the simplest and most comfortable to handle sniper throughout the world!
This is how it works:
Enter an item in your web browser
Start SchnapperPlus
Enter and confirm your maximum bid -> ready!
All non-essential functions were consistently left out to optimize the easy handling.
Auction data is imported automatically just by starting SchnapperPlus. If you want to bid on several items at the same time, simply open more SchnapperPlus windows. This takes just a click, due to the button in your Internet Explorer.
A description of how to integrate the SchnapperPlus button into the Opera or Mozilla browser can be found in the Support forum.
With other browsers, SchnapperPlus is started through the Start Menu or a link in the Quick Launch.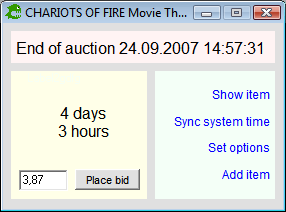 As soon as the bid is entered and confirmed the background of the SchnapperPlus window turns red. The sniper is now activated.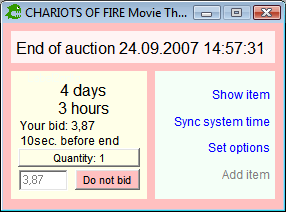 The integrated time synchronization equals your system clock with the eBay time, optional at every program start of SchnapperPlus.
---
Download
Try SchnapperPlus 30 days - for free. Download the current version here:
SchnapperPlus_install.exe


(approx. 1,4 MB)
---
Order
A SchnapperPlus license costs EUR 15.95 and can be ordered here.

Internet Explorer
The extension for the IE is already set up during the installation.
If you don't see a button for the Schnapper program,
please click here.
---

Mozilla Firefox
Browser extension for
SchnapperPro
SchnapperPlus
---

Opera
Browser extension for Schnapper programs:
Please click here.