SchnapperPro provides all relevant functions for the professional eBay bidder. The integrated item administration helps you keeping an overview of a multitude of items. Importing items is a cakewalk thanks to 4 strong importing functions.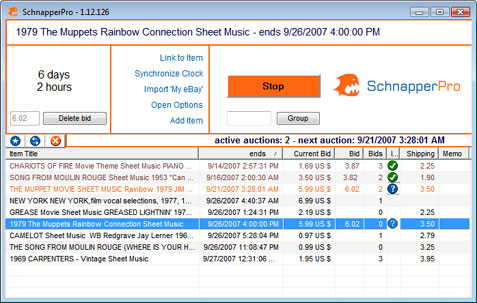 Data transfer is up to 20 times faster in SchnapperPro than in customary sniper programs due to the use of multi-channel technologies.
Multi instancing allows to place bids reliably even on items ending concurrently.
SchnapperPro uses energy-saving functions which means your computer doesn't have to run all day long just to place a bid sometime. SchnapperPro reliably reactivates your computer from hibernation so your bid can be placed right before an item ends.*
---
Download
Try SchnapperPro 30 days - for free. Download the current version here:
SchnapperPro_install.exe


(approx. 2,01 MB)
---
Order
A SchnapperPro license costs EUR 24.95 and can be ordered here.
*) For reactivating your computer from hibernation all ACPI functions must be on-hand. This is the case with almost all modern computers.

Internet Explorer
The extension for the IE is already set up during the installation.
If you don't see a button for the Schnapper program,
please click here.
---

Mozilla Firefox
Browser extension for
SchnapperPro
SchnapperPlus
---

Opera
Browser extension for Schnapper programs:
Please click here.